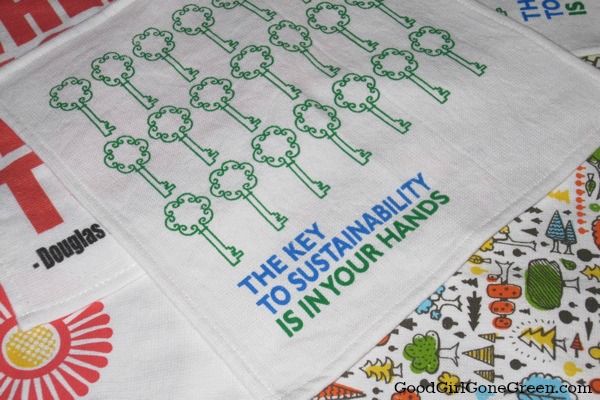 You are at home and spill something on the floor. What do you do? Without a thought, you reach for the paper towels to wipe it up.
You are having dinner and are setting the table. What do you do? Out of habit, you reach for the napkins to place under the cutlery.
You are at work and there is no eco-friendly hand dryer. What do you do? Go for the paper towel, of course!
All these paper towels and napkins are produced for a single use purpose. They are thrown in the trash to ultimately end up in a landfill creating an enormous environmental impact.
Did you know:
17 trees are cut down and 20,000 gallons of water are consumed to produce 1 ton of paper towels.
Paper manufacturing is the largest industrial user of water per pound of finished product.
Individuals use 2,400 – 3,000 paper towels per year.
In the US, 3,000 tons of paper towel is discarded daily.
When paper towels rot in landfills, they produce methane gas, which is 25 times more toxic than CO2.
Many brands of paper towels are bleached. Dioxin is a byproduct of the bleaching process, and it has been known to cause health problems in humans.
How can one person make a difference?
The first step is for people to switch to recycled paper towels and napkins. It is such an easy thing to do. 544,000 trees would be saved by replacing a 70-sheet roll of virgin fiber paper towels.
If given the choice, use a hand dryer instead of paper towels. The over all carbon footprint of the hand dryer out weighs the manufacturing and waste associated with paper towels.
Want to take it one step further?
Use cloth towels and napkins; just like in fancy restaurants. It is easier than you think to, simply, have towels available in the kitchen to wipe up spills; use cloth napkins for dinner; have a cloth towel handy when you are outside of the home.
One company that seems to get it is PeopleTowels. Their towels are 100% organic, Fair Trade cotton and only printed with earth-friendly water soluble dyes.
I was imagining all the napkins and paper towels that I use outside of the home; not really thinking of the environmental impact of my single use paper towel.
At that point, I wondered if anyone made a reusable towel that I could take with me. This is how I became the owner of PeopleTowels.
According to PeopleTowels website, if 1 in every 4 adults in the U.S switched to PeopleTowels for a year they would:
Save enough trees to cover the state of Alaska
Reduce landfill waste equal to filling Fenway Park 4 times
Conserve 22,000 Olympic size swimming pools of water
Cut CO2 emissions equal to the amount released by 815,000 cars.
I am happy knowing millions of trees will be saved, large quantities of waste will be diverted from a landfill and CO2 gas emissions will decrease all because I decided to buy a few towels!
This helps me sleep at night; knowing my small everyday action can and will make a difference.
The choice is now yours. Bleached. Recycled. or Cloth.
I did not receive any compensation and was not asked in anyway by PeopleTowels to write this blog post. This was all done by my own free will. However, if someone wants to send me a Towel, I would not say no. 🙂
Source: PeopleTowels and NRDC