When it comes to cleaning up scraps and scratches or tending to sunburns and chapped lips, I always gravitate to the more natural alternatives such as coconut oil or herbal remedies and skip the synthetic options.
Until the birth of my daughter, I never really thought to have a first aid kit handy for those unexpected moments. Now, I see it is a must. When I was putting my kit together, Earth Mama Angel Baby came to the rescue, and offered me a nice Mama's Herbal First Aid Bundle to get me started, and this is what was included:
Mama-To-Be Tea
MilkMaid Tea
New Mama Bottom Spray
Happy Mama Spray
Bottom Balm
Mama's Nipple Butter
I never really thought to use their products for anything more than what it states on their products. I was clearly wrong.
I have personally been using their products on myself and my daughter for the last 2 years, and have been very pleased with them. It is clear to me that Earth Mama Angel Baby is a trusted company that sincerely cares about the well-being of the environment and that of their clients.
According to their website…
"We use the highest-quality, certified-organic or organically grown herbs and oils for our teas, bath herbs, gentle handmade soaps, salves, lotions and massage oils. Our products are 100% free of toxins, cruelty-free, gluten-free, vegan, and free from all artificial preservatives, fragrances and dyes. Our commitment to honor the earth and her valuable resources extends to our packaging as well – we use only eco-friendly recyclable or reused/reusable packaging and packing materials. It's true – we are even the proud recipients of the BRAG (Business Recycling Award Group) for our green practices."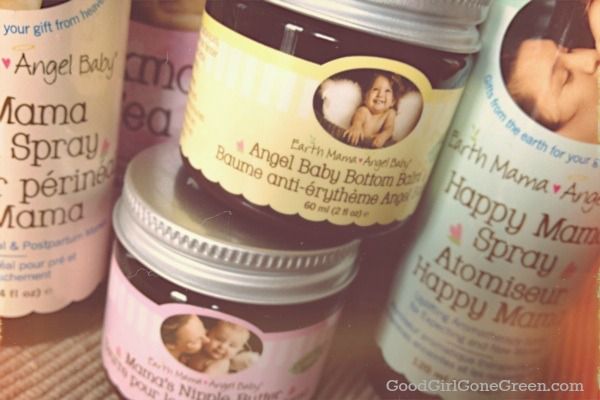 9 ways Earth Mama Angel Baby products do double duty
Their Mama's Nipple Butter is my go-to product for chapped lips. Have you ever smelled their Nipple Butter? It smells just like cacao butter. I could just eat my lips. It is also good for minor rashes, to cover and protect scrapes and abrasions, and chapped cheeks.
A few weeks ago my daughter fell and scrapped her knee, and I immediately rubbed some Baby Bottom Balm on her. The scrap healed quickly, and it didn't seem to bother her in the least. Other uses are for fungal rashes, itchy rashes, and chaffing. I am sure we can all use some relief from that common annoyance!
What to do when your little ones has an upset tummy? Rub some Happy Mama Spray on them to sooth their pains. It is also great for pregnancy nausea.
New Mama Bottom Spray works amazingly as a facial toner, and it is perfect for a sunburn, shaving rash and some minor scrapes. Just because it says "bottom" in the name doesn't mean you can't use it on your face. Don't knock it until you try it.
I am a big tea drinker and I believe my daughter has inherited my love of tea. But did you know different herbal teas have different natural healing properties? Before bed, my daughter and I always sit and share a cup of tea to help relax her. Our tea of choice is the Organic Peaceful Mama Tea, which works wonders for teething, overtired and cranky toddlers. This helps her sleep at night.
I always feel better when I have a few sips of their Organic Milkmaid Tea helping with gas, bloating, heartburn, and indigestion. Who would have thought that their herbal tea remedy would do all this.
The Heartburn Tea is obviously for heartburn, but helps with sore throats. Haven't experienced a sore throat lately, but will keep this remedy in mind when I feel one coming on.
I have never experienced seasonal allergies, just heard that they are a pain in the butt. The Organic Third Trimester Tea is suppose to help with that. Why not give it a try and let me know how it works. It is also know to help with leg cramps and diarrhea. Fun.
Flu season has begun, and the Organic Morning Wellness Tea may be a good option when you feel the symptoms of nausea creeping up on you from the flu as well as from medication and travel tummy.
Looks like my Herbal First Aid Kit is complete, and that should about cover all the bases. I will now put it in a safe place for when I need it.
What is in your first aid kit?
Want to win your own Earth Mama Angel Baby Herbal kit? All you have to do is fill out the Rafflecopter form below.  Open to U.S and Canadian residents only. Please read the terms and conditions below. Good luck.
Disclosure CMP.LY
Earth Mama Angel Baby, Herbal First Aid Kit, products, USDA organic, vegan