Earth Mama Angel Baby Herbal First Aid Kit
in
Personal Care Products, Products
When it comes to cleaning up scraps and scratches or tending to sunburns and chapped lips, I always gravitate to the more natural alternatives such as coconut oil or herbal remedies and skip the synthetic options.
Until the birth of my daughter, I never really thought to have a first aid kit handy for those unexpected moments. Now, I see it is a must. When I was putting my kit together, Earth Mama Angel Baby came to the rescue, and offered me a nice Mama's Herbal First Aid Bundle to get me started, and this is what was included:
Mama-To-Be Tea
MilkMaid Tea
New Mama Bottom Spray
Happy Mama Spray
Bottom Balm
Mama's Nipple Butter
I never really thought to use their products for anything more than what it states on their products. I was clearly wrong.
I have personally been using their products on myself and my daughter for the last 2 years, and have been very pleased with them. It is clear to me that Earth Mama Angel Baby is a trusted company that sincerely cares about the well-being of the environment and that of their clients.
According to their website…
"We use the highest-quality, certified-organic or organically grown herbs and oils for our teas, bath herbs, gentle handmade soaps, salves, lotions and massage oils. Our products are 100% free of toxins, cruelty-free, gluten-free, vegan, and free from all artificial preservatives, fragrances and dyes. Our commitment to honor the earth and her valuable resources extends to our packaging as well – we use only eco-friendly recyclable or reused/reusable packaging and packing materials. It's true – we are even the proud recipients of the BRAG (Business Recycling Award Group) for our green practices."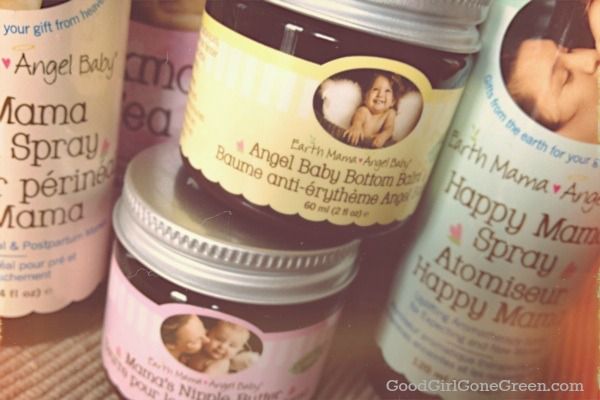 9 ways Earth Mama Angel Baby products do double duty
Looks like my Herbal First Aid Kit is complete, and that should about cover all the bases. I will now put it in a safe place for when I need it.
What is in your first aid kit?
I was provided with the following products from Earth Mama Angel Baby: Mama-To-Be Tea, MilkMaid Tea, New Mama Bottom Spray, Happy Mama Spray, Bottom Balm, and Mama's Nipple Butter in exchange for my honest opinion of their products. I did not receive any monetary compensation for this post.